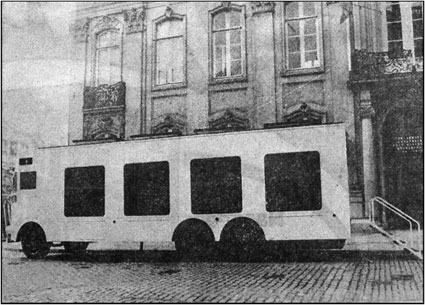 Mobile Museum of Modern Media

'Continental Video & Filmtour' a project by Hugo Heyrman, founder of 'Artworker Foundation'.
The tour started in front of the International Cultural Centrum ICC, Royal Palace, Meir, Antwerp, on March 31th 1973.
With this XL mobile cinema I toured in Belgium, Germany, France and in the Netherlands. The vehicle had a complete
self operating closed circuit system, powered by a generator. The screen inside, looked like a high quality giant TV.
To shorten the projection distance a construction of mirrors was used to transfer the video projection to the backside
of a transparent screen. Experimental films and video's where directly transmitted to a comfortable sitting public of
30 people. The soundtrack of the movie inside could also be heard outside through exterior loudspeakers. The
mobile cinema itself was a Mack Lanova (9400 KG. Length: 11 m. Width 2.50 m. Height 3.80 m.) The white,
spacious, fantastic looking bus was perfectly suited for this free, independent, not for profit project.


|| Museums of the Mind ||